Armen Vartany, MD, FACS: Plastic Surgery and Laser Center
116 S Buena Vista St #300
Burbank, CA 91505
Phone: (818) 500-0823
Monday–Friday: 7:30 a.m.–6 p.m.
Saturday: 7:30 a.m.–4 p.m.
Closed for Lunch: 12 p.m.–1 p.m.

Tummy Tuck
It may seem impossible to have a flatter, toned stomach because of excess skin that remains after weight loss or pregnancy. Exercise and dieting don't produce visible changes, which can be frustrating. That's why many women and men choose to undergo abdominoplasty, often called a tummy tuck, performed by double board-certified plastic surgeon Dr. Armen Vartany. Tummy tuck patients from Glendale, Pasadena, and throughout the Los Angeles area regain their slimmer midsection—and often their confidence—after undergoing abdominoplasty with Dr. Vartany.
How Much Does a Tummy Tuck Cost Near Burbank, CA?
The cost of a tummy tuck at our Burbank practice varies from $6,040 to $12,407. Your total cost will depend on the extent of the surgery and if it's combined with other procedures. The cost of a full tummy tuck, for example, will be more than a modified tummy tuck. Other factors that influence the cost of cosmetic surgery include the surgeon's training and experience and the location of the practice. It's important, however, not to choose a plastic surgeon based only on cost. Our accepting forms of payment can be found on our pricing page. To assist qualified patients, we also offer financing that can help spread payments out over time. (All pricing and terms are subject to change without notice.)
Is a Tummy Tuck Right for You?
If you're considering a tummy tuck, it's important to understand the benefits and limitations of the procedure. Patients who are in good overall health and maintain a stable weight are excellent candidates for a tummy tuck. If your weight fluctuates or you still intend to lose weight, Dr. Vartany recommends postponing tummy tuck surgery until you've reached a stable weight.
Abdominoplasty is not weight-loss surgery or a substitute for leading a healthy lifestyle that includes exercise. It's also important to lead a healthy lifestyle after the surgery. Even though the results of a tummy tuck are long-lasting, significant weight gain followed by weight loss can compromise the positive outcome.
Good candidates for a tummy tuck also:
Are non-smokers
Have a positive attitude and realistic expectations about the results
Aren't planning to get pregnant again if you're a woman
As with all cosmetic surgeries, this is a very personal decision, and you should only do it for yourself, not to fulfill someone else's desires or to try to fit any sort of ideal image.
How Is a Tummy Tuck Performed?
Dr. Vartany customizes his tummy tuck techniques based on the needs of each patient, performing either a full or modified tummy tuck.
Full Tummy Tuck
Most tummy tuck patients can benefit from a full tummy tuck. During this procedure, Dr. Vartany makes a horizontal incision just above the public hairline. He determines the length and shape of the by the degree of the correction necessary. If needed, Dr. Vartany will repair weakened abdominal muscles, a condition often encountered by women who have had children. He then removes excess fatty tissue and skin. Additionally, a full tummy tuck often involves repositioning the navel so it looks natural after the removal of excess skin. This requires a second incision around the navel.
Once the skin is removed, Dr. Vartany sutures the incision. He also places surgical drains that help prevent the accumulation of fluid between the skin and muscle, which can lead to a complication called a seroma.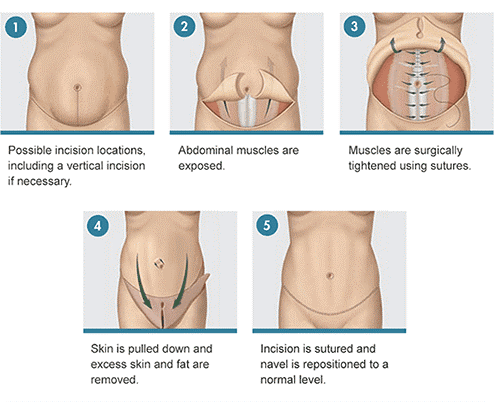 Modified Tummy Tuck
A modified or mini tummy tuck is limited to the lower area of the abdomen. A shorter, horizontal incision is made between the pubic hairline and the navel, and the procedure doesn't involve making a second incision around the navel. Only the skin between the belly button and the public hairline is pulled down and removed. This technique also doesn't involve tightening the abdominal muscles. The mini tummy tuck is an excellent approach for a patient with a belly "pooch" that persists despite exercise.
How Long Is Recovery After a Tummy Tuck?
A tummy tuck is major surgery, and you should be prepared to take at least 2 to 3 weeks off from work if you have a primarily desk job. Dr. Vartany provides tummy tuck patients with detailed post-op instructions, and following them closely can help minimize the length and discomfort during the recovery process.
Some of the most important details regarding recovery include:
Get plenty of rest, especially during the first week.
Even though moving around is uncomfortable because you won't be able to stand upright for several days, you should still take walks around your house a few times a day to enhance circulation and promote healing.
Empty surgical drains twice each day. We'll provide a form for you to log the amount of fluid drained from each side in the morning and at night. Dr. Vartany removes the drains about 6 to 10 days after the procedure.
You won't be able to shower until the drains are removed.
Wear the compression garment we'll provide for 6 weeks, removing it only while showering.
Sleep only on your back for 4 to 6 weeks after the surgery. If you normally sleep on your stomach, begin sleeping on your back for several nights before the procedure.
Wait until Dr. Vartany says it's okay before driving. This typically occurs once you've stopped taking prescription pain medications.
Avoid strenuous exercise or any other activity that elevates your heart rate or blood pressure for 4 weeks.
Don't attempt to remove the steri-strip Dr. Vartany places on the incisions. It typically comes off on its own.
Even though you'll see the results as swelling and bruising subside in the first few weeks of the recovery, it can take up to 6 months for residual swelling to dissipate and for you to be completely healed.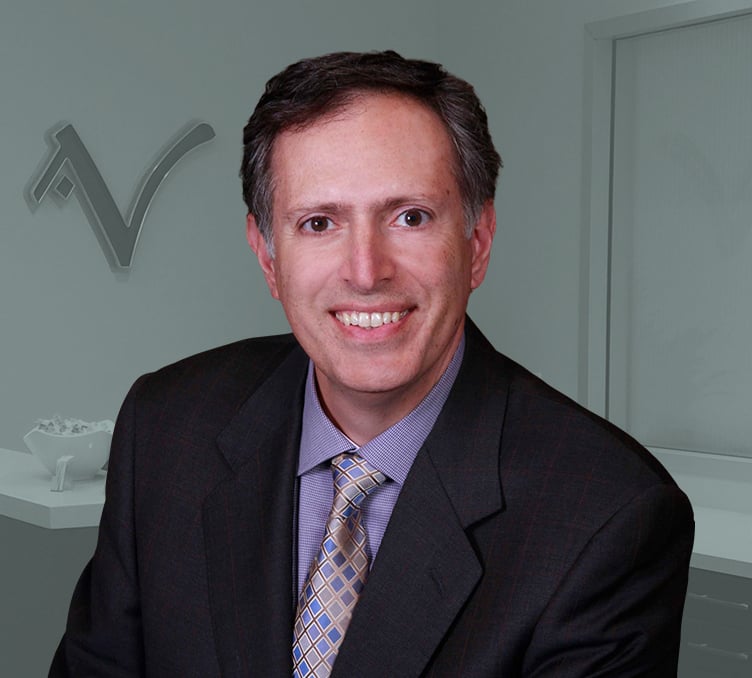 Meet Dr. Vartany
Double Board-Certified Plastic Surgeon
If you're looking for an experienced, compassionate plastic surgeon with a reputation for producing superior cosmetic results, look no further than Dr. Vartany. Combining expertise and honesty with a gentle demeanor, Dr. Vartany provides the quality of Beverly Hills for his plastic surgery patients from Burbank, Glendale, Pasadena, and beyond.
Meet Dr. Vartany
Credentials You Can Trust

Frequently Asked Questions
For information about your personalized consultation, how to prepare for your upcoming procedure and what to expect during recovery, please visit our Patient Resources page.
Can I combine a tummy tuck with other procedures?
Tummy tuck surgery is frequently combined with other body contouring procedures such as liposuction and cosmetic breast enhancement. Women who are finished having children often choose to get a tummy tuck with a breast lift or breast augmentation—or both—as part of a Mommy Makeover. You can discuss your options with Dr. Vartany at your consultation.
How noticeable will my tummy tuck scar be?
Dr. Vartany makes your incision low on your torso so the scar is easily concealed, even under very low-cut underwear or swimsuit bottoms. Initially, the scar will be red and raised, but it will gradually flatten and fade until it is a thin, faint line. This fading takes about a year.
What are the risks of getting a tummy tuck?
Dr. Vartany explains the risk of complications in detail so you can make a fully informed decision about undergoing the procedure. Understanding those risks and how the procedure is performed helps patients make their choice with confidence.
Is it okay to get a tattoo to cover my tummy tuck scar?
Yes, you can get a tattoo over your tummy tuck scar as long as you are fully healed from the surgery. The healing process takes about 6 months, but it's always a good idea to check with Dr. Vartany first.
Is an abdominoplasty painful?
You can expect moderate pain for the first several days after the surgery, but it is manageable with pain medication. The pain will taper off to mild pain or discomfort the second week after surgery.
If you're looking for the best plastic surgeon in the Glendale and Pasadena area to perform tummy tuck surgery, request a consultation with Dr. Vartany using the online form or call us at (818) 500-0823 and a member of our team will schedule your appointment.
A Reputation Built on Results
Great service and staff is very welcoming. Dr. Vartany give me a very comfortable and caring feeling....
Súper el servicio me encanto todo el personal fue muy amable!!!
Lovely staff! I had a very good experience doing my first laser treatment at Dr Vartany's. Everyone...
Dr Vartany and staff are the most amazing people and care for you and explain to you in details about...